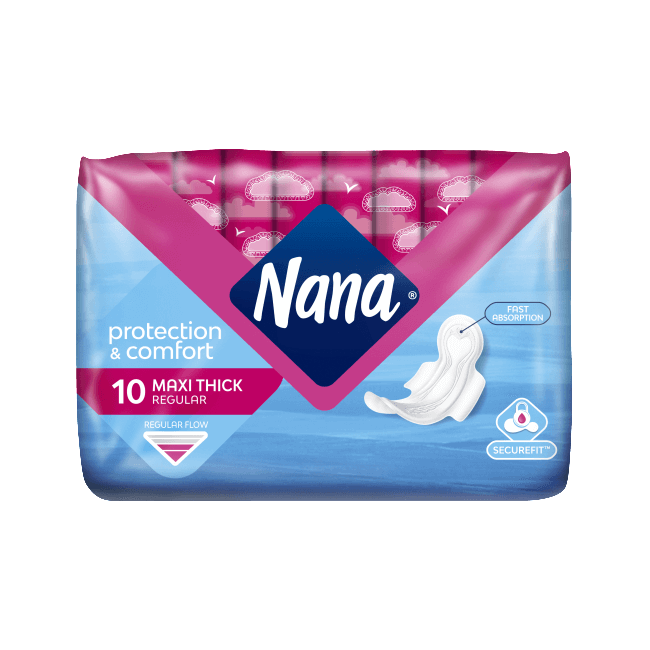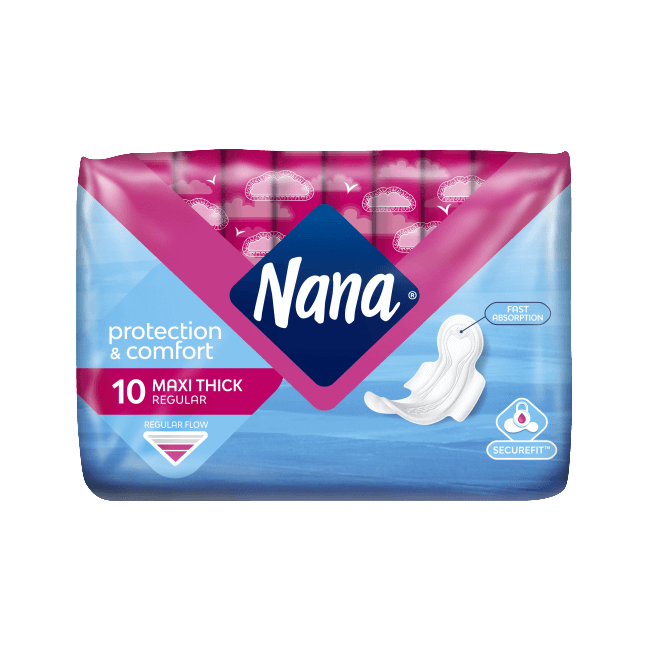 Maxi Regular pads with wings
Nana Maxi Regular pads are designed to give you both great comfort and incredible protection so you can live life to the max. After all, extra thickness means extra absorption when your flow is heavy.
Unique curve-hugging shape with anti-leak walls, a fast-absorption core and an all-around barrier
Wings for extra confidence and security

About the Product
Technology
Works For
About the Product
The new Cour-V™ adaptive technology used in these absorbent sanitary towels provides the sanitary protection you need and our most adaptive fit, even during heavy periods.  
3X ABSORPTION ZONES. Homogenous areas in the front, middle and back shaping elements create the ideal protection.
FAST ABSORPTION. An absorbent surface and special shape make these period pads for women a perfect choice for heavy periods.
MAXIMUM ADAPTABILITY. Core shaping elements and wings give these sanitary towels our most adaptive fit, enabling them to shape themselves to your unique body and flow.
CO₂ REDUCED PACKAGING. Packaging contains at least 80%* materials from plant-based, recycled and/or biomass balanced sources which reduce the carbon footprint.
ROLL.PRESS.GO™. This technology makes these sanitary towels very convenient, easy to use and easy to dispose of safely. Simply unwrap a new towel, then roll-up the used one in the wrapper. Press the sides to seal it closed, and you're good to go. It's hygienic and discreet, every step of the way. Even if you aren't near a sanitary bin, you can pop it in your bag, safe in the knowledge that the towel will not open: the sealed Roll Press Go wrapper stays tightly secured. 
Wear Nana, Live Fearless. 
*Read more at https://www.nana-me.com/en-ae/our-world/our-eco-promise/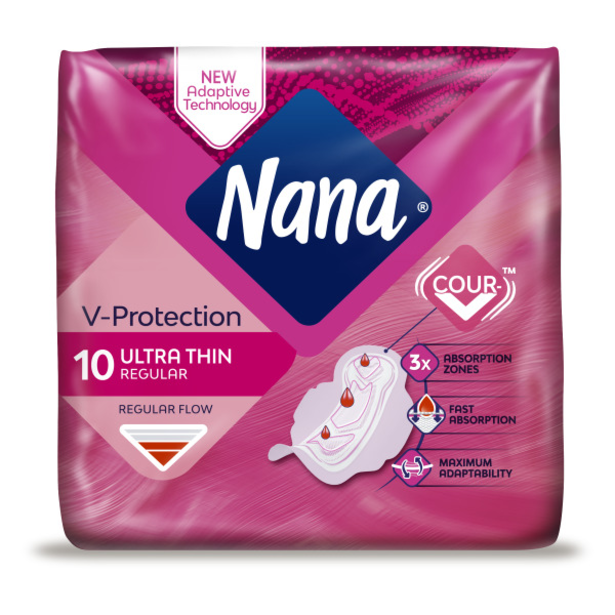 Technology
COUR-V™ Discover our most adaptive fit, so you feel protected all day long. 
Try our Nana V-Protection sanitary towels. With the new Cour-V™ adaptive technology, they provide the next level of V-Zone care. These towels truly understand your intimate area. They collect fluid through and across your V-Zone while feeling pleasant to wear. With 3x smart blood absorption zones, fast absorption and maximum adaptability you'll feel perfectly secure. Because at Nana, we want you to move fearless.
3X ABSORPTION ZONES deal not only with how blood comes out, but also with how it flows and travels.
FAST ABSORPTION keeps your V-Zone fresh and protected all day, even during heavy periods.
MAXIMUM ADAPTABILITY allows for the perfect fit to your unique body shape and flow."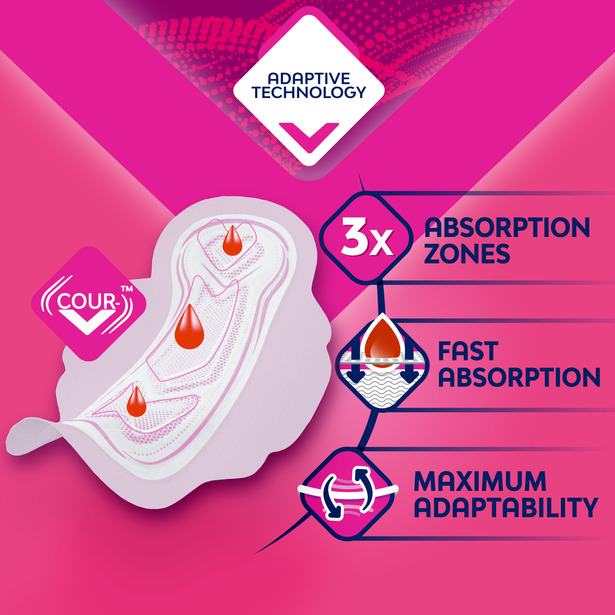 Works for:

Day Time

Period days

Workout