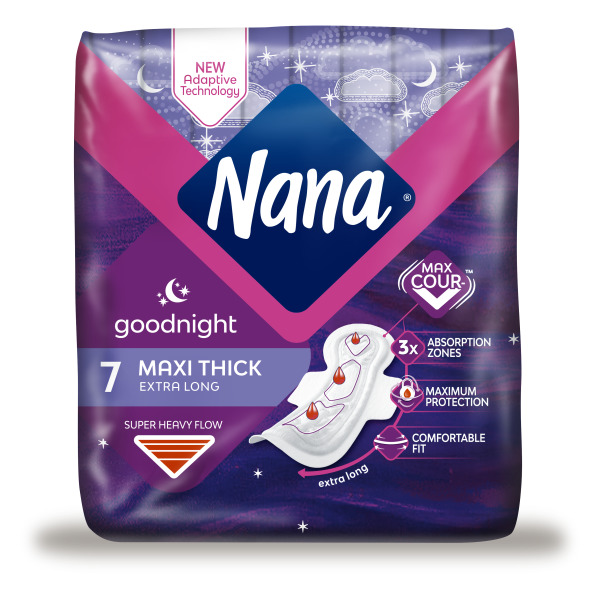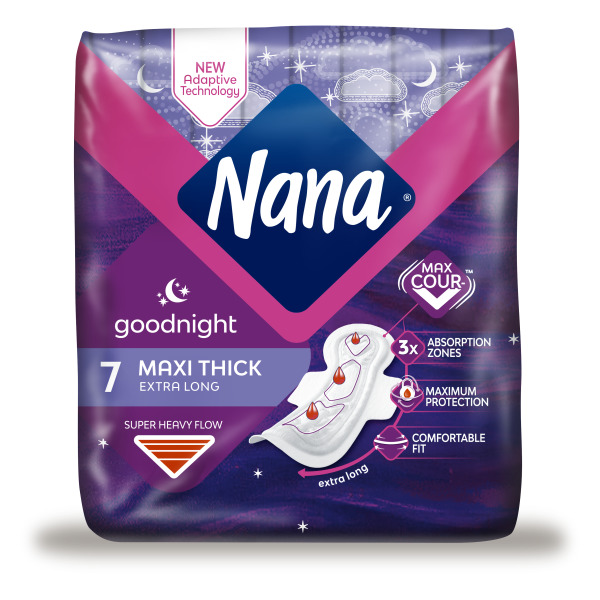 Nana Goodnight
Nana Maxi Goodnight Extra Long Sanitary Pads with Wings

Nana Maxi Goodnight overnight and extra long pads with new Max Cour -V™ adaptive technology featuring 3x blood absorption zones provide maximum protection during super heavy periods.


New intimate adaptive technology Max Cour-V™
3X absorption zones
Maximum protection
Comfortable Fit
EXTRA LONG
ROLL.PRESS.GO™
RECYCLABLE OUTER PACK
About the Product
Technology
Works For
About the Product
Maxi Goodnight extra long pads give you maximum protection and a comfortable fit for any sleeping position during super heavy periods.
NEW MAX COUR-V™ ADAPTIVE TECHNOLOGY provides the protection you need and our most adaptive fit thanks to 3x absorption zones and an absorbent surface. 
EXTRA LENGTH AND WINGS to keep pads in place, provide maximum protection and a comfortable fit for super heavy flow. And no leaks. Of the towel, not you. Because women don't leak, they have periods.
ENVIRONMENT-FRIENDLY. The product is made with certified renewable electricity and has a recyclable outer pack*.
ROLL.PRESS.GO™ This technology makes these pads for heavy flow very convenient, easy to use and easy to dispose of safely. Simply unwrap a new towel, then roll-up the used one in the wrapper. Press the sides to seal it closed, and you're good to go. It's hygienic and discreet, every step of the way. Even if you aren't near a sanitary bin, you can pop it in your bag, knowing that the towel will not open: the sealed Roll Press Go™ wrapper stays tightly secured. 
Wear Nana, Sleep Fearless. 
*Read more at www.nana.com/en-ae/our-world/our-eco-promise/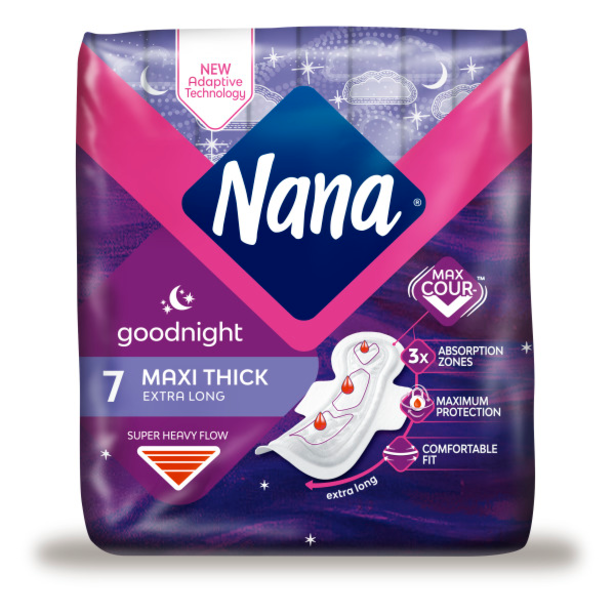 Technology
MAX COUR-V™ Discover maximum protection and a comfortable fit.
Try our Nana  Maxi Goodnight extra long sanitary pads. With the new Max Cour-V™ adaptive technology, they provide the next level of V-Zone care during super heavy periods. These towels truly understand your intimate area. They collect fluid through and across your V-Zone while feeling pleasant to wear. With 3x smart blood absorption zones and maximum adaptability they catch and lock your flow to keep your clothes and bedsheets stain free. An extra length makes you feel perfectly secure. 
Because at Nana, we want you to sleep fearless.
3X ABSORPTION ZONES not only deal with how blood comes out, but also with how it flows and travels.
MAXIMUM PROTECTION for any sleeping position.
MAXIMUM ADAPTABILITY allows for the perfect fit to your unique body shape and flow.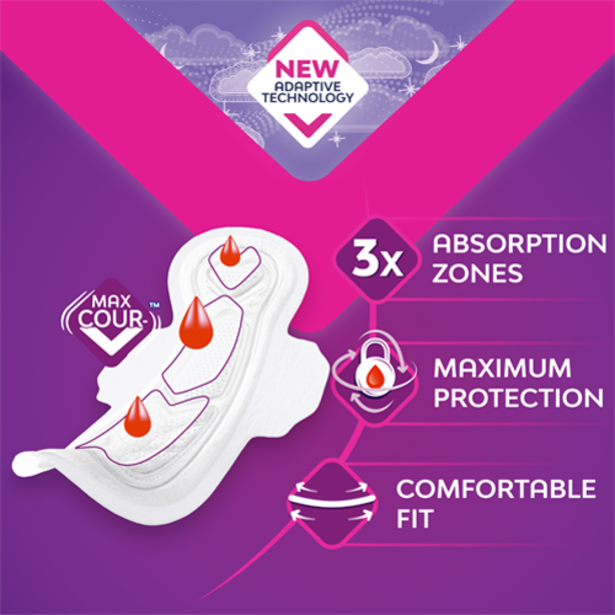 Works for:

Night Time

Period days