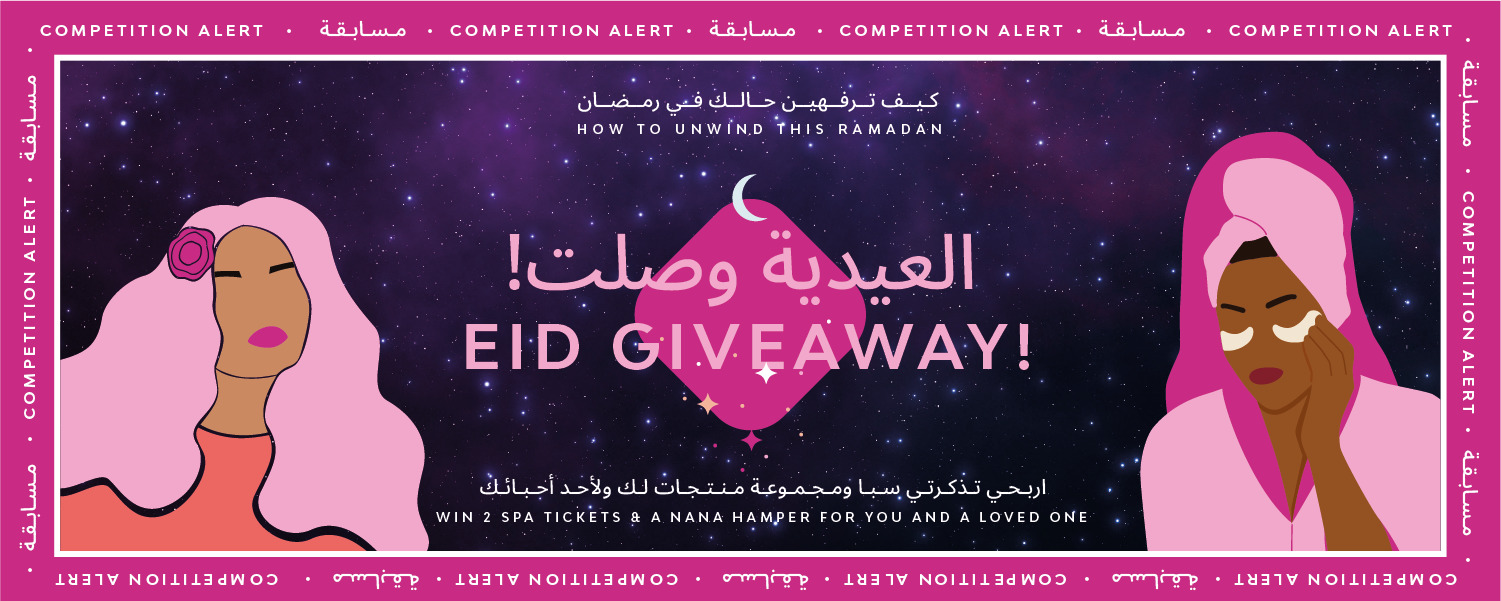 Contest – Nana Arabia - Terms & Conditions
By entering into this Contest, the entrants ("Entrants") agree to be bound by these Terms and Conditions. By entering the Contest, Entrants are deemed to have accepted the Terms and Conditions and any other information regarding prizes and how to enter including the Notification (defined below) and any Contest notices posted. This document will have priority over any inconsistent terms in any applicable Contest notice.
This Contest will close at 23:59 UAE (GMT+4) on May 6th ("Contest Period").
This Contest is sponsored by Essity Hygiene and Health Aktiebolag ("Essity").
This Contest is only open to residents of the United Arab Emirates, Jordan and Kuwait (the "Territory") and are 18 years or older at the time of the Contest's commencement. Any minor will be immediately disqualified to participate and will not be entitled to any Prizes under this Contest. 
Directors, management, officers and employees (and their immediate family (parents, children, siblings and spouses) and household members) of Essity and their affiliated companies and advertising and promotional agencies, representatives and entities involved in the implementation and execution of the Contest are not eligible to participate.
To enter the Contest, you must do the following during the Contest Period:
Each Entrant must like the post, follow our @nanarabia page, fill the form found on the website to be considered as a valid Entrant.
Entrants must not inaccurately tag content or encourage others to inaccurately tag content (example: Entrants should not tag themselves in photos if they aren't in the photo).
We reserve the right to disqualify any Entrant that does not adhere to these Terms and Conditions and the terms and conditions of the Instagram Community Guidelines found here (https://help.instagram.com/477434105621119).
Entrants who send inappropriate images will also be disqualified.
Multiple Entries (multiple posts) per person is not permitted. Only one entry will be accepted per person.
No purchase is necessary to enter the Contest.
If Entrants found to use multiple accounts in order to enter the Contest, they will be ineligible and disqualified.
Entrants should use their real names when submitting entries in order to qualify to enter this Contest. Fake accounts and names will be disqualified immediately.
Entrants whose accounts are removed, disabled or cancelled by Instagram for any reason will be disqualified immediately.
Entry information are collectively referred to herein as "Entry" or "Entries".
Entrants are responsible for their own costs associated with accessing the Internet. These costs may vary and you are advised to check with your service provider for current charges. Entrants should seek the permission of the person paying the bill before entering. If you are accessing the internet via a cellular data network the cost of entry will vary depending on whether you have a contracted data package in place and the terms of that data package.
We reserve the right, in our sole discretion, to cancel, terminate, modify or suspend this Contest for any reason or should any computer virus, communications network failure, bug, tampering, unauthorised intervention, fraud, technical failure or other causes beyond our control corrupt the administration, security or proper operation of the Contest. In the event of cancellation, we shall be entitled to award the Prizes from among all eligible, non-suspect Entries received prior to cancellation. Automated Entries are prohibited, and any use of automated devices, software or other methods will result in disqualification.
By submitting an Entry you hereby grant to Essity and their respective parents, subsidiaries and affiliated companies a perpetual, worldwide, royalty-free, irrevocable, non-exclusive licence to use, reproduce, copy, adapt, modify, transmit, broadcast, publish or delete any information or other material comprised in the Entry including without limitation, the Entrant's name, Photograph, likeness, biographical information, voice, text, images, designs, audio and/or video clips submitted in entering or any statement made by them concerning the Contest in any and all media as they, in their discretion, see fit. Such use will include, but not be limited to uploading the Entry to any website and/or Instagram account.
5. Selection of Winners and Prizes
One (1) winner will be selected randomly by an automated computer draw using software from among all Entrants who have submitted a qualified entry that comply with these terms and conditions.
The winner will be notified on Nana's Instagram platform. If the winner cannot be contacted or does not claim the prize within 5 days of notification, the winner will be disqualified and we reserve the right to withdraw the prize from the winner.
For the purposes of this Contest the Prize that the winner shall be entitled to receive, is: 1-year supply of Nana products.
Essity and its associated agencies and companies will not be liable for any damage or delay in transit to receive the Prizes.
Entrants release Essity and its directors, affiliates, representatives, advertising and promotional agencies from any and all liability arising from their participation in the Contest or out of, pursuant to, or as a result of the carrying out of the Contest, including liability arising from the acceptance of and usage of the Prize as awarded.
By accepting a Prize, the Entrants acknowledge and agree that the Prize does not include anything other than prescribed above and that the winning Entrants shall be responsible for any other applicable fees in order to use the Prize or associated services.
The Prizes are not transferable and subject to availability. Essity reserves the right to substitute the Prizes for other prizes of equal, lower, or greater value.
Prize cannot be exchanged for cash.
Essity will not be liable for any corrupted prize once the prize has been sent to the winning Entrant.
If a winning Entry is deemed not to comply with these Terms and Conditions, the Entry will be discarded, and a new winner of that Prize will be determined by Essity may select a further valid Entry in accordance with the rules set forth above. Decisions as to whether Entries violate these Terms and Conditions in any way shall be in the sole discretion of Essity. Submissions that do not comply in all material respects with the Terms and Conditions shall be disqualified.
Essity reserves the right to terminate the Contest and withhold the Prize(s) if, in the Essity's reasonable opinion, there are insufficient Entries, or the Entries received are of insufficient quality to be able to select a winner. This decision is final with respect to any aspect of the Contest, including the determination of any winner.
The validity of any Entry is subject to verification by Essity. Essity requires the winner to provide a delivery address and may require the winner to provide proof of identity, proof of residency and/or any other documentation that it deems necessary or appropriate. Identification considered suitable for verification is at Essity's discretion.
Essity cannot guarantee the performance of any third party and shall not be liable for any act or default by a third party. Entrants in this Contest agree that Essity will have no liability whatsoever for any injuries, losses, costs, damage or disappointment of any kind resulting in whole or in part, directly or indirectly from acceptance, misuse or use of a prize, or from participation in this contest.
This Contest is in no way sponsored, endorsed, administered by or associated with Instagram.
By entering this Contest, Entrants agree to release Instagram from all liability related to their entry in this Contest.
All information provided by Entrants will not be disclosed to Instagram and will be handled only by Essity.
Essity is not liable for late, lost, incomplete, incorrectly submitted, delayed, illegible, corrupted or misdirected Entries, claims or correspondence due to error, omission, tampering, deletion, theft, and communications failure or otherwise. Essity has no control over communications networks and is not liable for any problems associated with them due to traffic congestion, technical malfunction or otherwise. Essity is not liable for any consequences of user error including (without limitation) costs incurred.
Essity may, in its sole discretion, disqualify any Entries from, and prohibit further participation in this Contest by, any person who tampers with or benefits from any tampering with the Entry process or with the operation of the Contest or acts in violation of the Terms and Conditions, acts in a disruptive manner or acts with the intent or effect of annoying, abusing, threatening or harassing any other person. Essity may in its absolute discretion cancel a Prize or otherwise cease to provide any benefit of a Prize to a winner if the winner behaves in a manner which may diminish the good name or reputation of Essity or any of its related bodies corporate or the agencies or companies associated with this Contest, is contrary to law or is otherwise inappropriate.
Essity is not liable for any tax implications arising from the Prize or Contest. The winner will be solely responsible for any and all applicable taxes and any other costs, expenses and fees including any customs, in connection with their participation in the Contest and acceptance of any prize.
The winner may, at Essity's request, participate in all promotional activities (such as publicity and photography) surrounding the winning of any Prize, free of charge. By entering the Contest, you grant permission for Essity and its designees to use your name, address (town/city and county), photograph, voice and/or other likeness for advertising, trade and promotional purposes in any and all media now known or hereafter discovered, worldwide, in perpetuity, without compensation, notification or permission.
By completing and submitting the information requested for participation in the Contest, Entrants consent to the collection, use and disclosure of their personal information for the purposes of this Contest. Essity may disclose Entrants' personal information to its contractors and agents to assist in conducting this Contest or communicating with Entrant. Entrants consent to the storage of their personal information on Essity's database either hosted locally or internationally and Essity may use this information for future promotion and marketing purposes regarding its products, including contacting the Entrants via electronic messaging.
The terms and conditions of this Contest shall be governed by and construed in accordance with the laws of the United Arab Emirates, and you agree to submit to the exclusive jurisdiction of the courts located in Dubai, the United Arab Emirates.